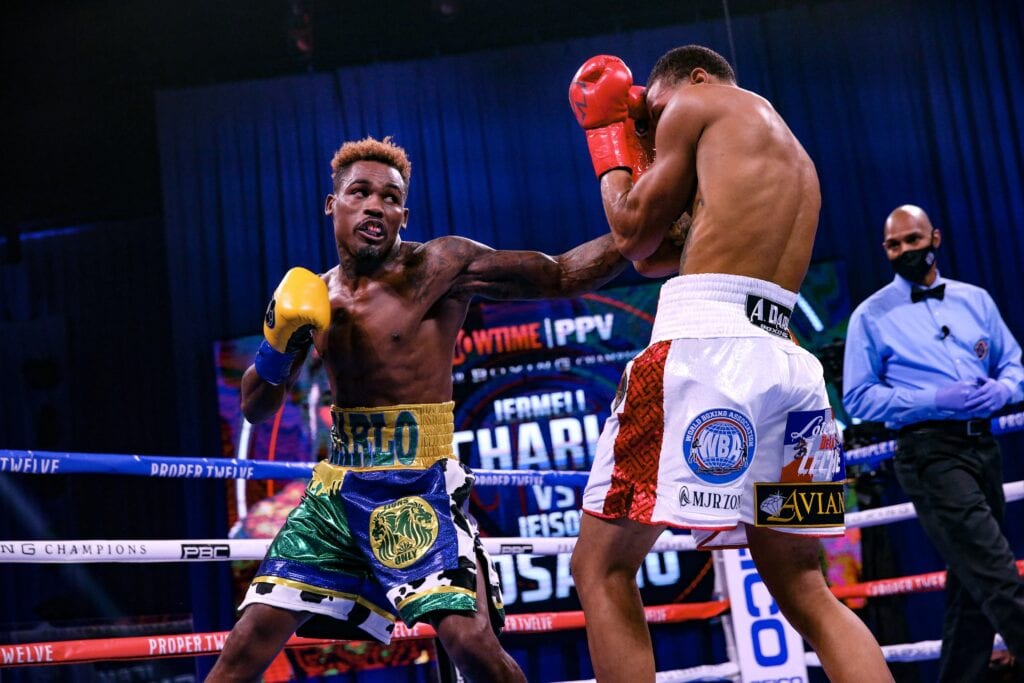 News
Jermell Charlo Reveals IBF Hasn't Sent Him His Belt
Jermell Charlo Reveals IBF Hasn't Sent Him His Belt
Unified World Junior Middleweight champion Jermell Charlo scored an impressive body punch knockout in his last title fight in September. However, he has revealed that the International Boxing Federation is questioning the legitimacy of that win.
Charlo took to social media Tuesday night and publicly blasted that the IBF still has not sent him their 154-pound World title belt. And, he implied that there is controversy from the organization about his September 8th round KO win over then Champion Jeison Rosario,
somebody tell IBF it's fucked up how they doing boxers send me My Fucking Belt I Won in Sept 26.. Shameful.. lost out on gig etc cuz i'm not not taking no pic without my belts.. got my WBC, WBA, RING, & IBF thinks my knock out was controversial smh

— JERMELL CHARLO (@TwinCharlo) February 3, 2021
First, it is not uncommon in the present day that boxing organizations take several weeks, or even months, to get an official customized world championship belt sent to a fighter after they've won their title. This is what allows individual fighters to keep their belts, even after they've lost them or vacated them, because they are essentially a collector's item belt for them.
That's what Charlo has been waiting for from the IBF and as he made mention, he was wanting to do some type of publicity photo or video shoot with all of his 154 lb. world championship  belts. Yet, some five months later he doesn't have the IBF hardware.
Charlo's tweet implies that they don't consider his September win at the Mohegan Sun Casino in Connecticut to be without question. Charlo, 34-1, 18 KOs was winning the fight with the WBA/IBF champ Rosario, and he landed a strong, straight left to the right midsection of Rosario just seconds into the eighth round.
Rosario was shown to be gasping for air in the prone position on the canvas and was counted out with ringside doctors rushing to him.
As for the questioning of that win, a Wednesday morning check of the International Boxing Federation's website reveals its not very well kept or updated. For example, the last news item from the IBF is Jessica McCaskill's Undisputed Women's World Welterweight Title win last August over Cecilia Braekhus.
Six months ago.
Further, the site lists no rankings for any weight division for January 2021 and that's including, Junior Middleweight. Observe,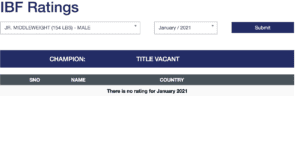 However, if you go back one month to their December 2020 rankings, it does list Jermell Charlo as their 154 lb. World champion,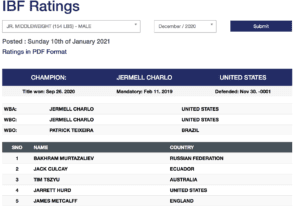 So, if the IBF is now contending that Charlo's September KO wasn't legit, they should publicly explain what they are doing.
Finally, Charlo also owns the WBA and WBC versions of the Junior Middleweight championships, while Brazilian-born Patrick Teixeira is the WBO World Champ. Therefore, it's tough to argue that Charlo isn't the best fighter at 154 lb.
No matter what games the IBF is playing with sending him his belt.