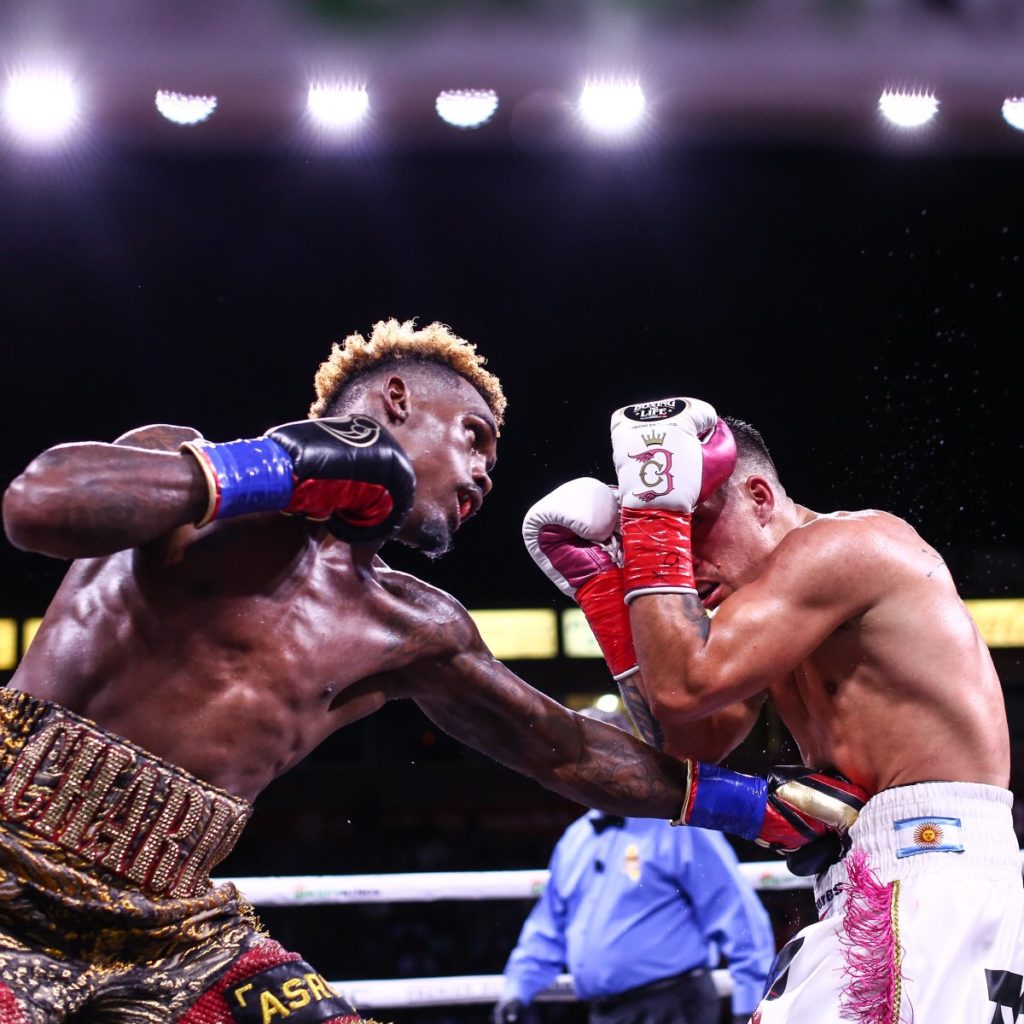 News
Jermell Charlo Knocks Out Castano To Become Undisputed
Jermell Charlo Knocks Out Castano To Become Undisputed
Throughout the build up, Jermell Charlo insisted he was going to go for a knockout in his rematch with Brian Castano. After their controversial split draw to unify all four junior middleweight world titles last July 17 in San Antonio – which most observers had Castano winning — Charlo had no intention of allowing it to go to the judges again, and he delivered.
Charlo scored two knockdowns in the 10th round and stopped Castano to conclude a pulsating, all-action slugfest to unify the four major belts in the 154-pound division for the first time and become the undisputed world champion on Saturday night in the Showtime main event before 7,406 at Dignity Health Sports Park in Carson, California.
HISTORY MADE FOR @TwinCharlo 👑

Charlo stops Castano in RD 10 to become the first ever 154-lb undisputed champ in the 4-belt era. #CharloCastano2 pic.twitter.com/Fy81yrXTBp

— SHOWTIME Boxing (@ShowtimeBoxing) May 15, 2022
"This is unbelievable! I did it for us, USA! I did it for us. Shout out to Carson, California, L.A. and the whole surrounding area. Thanks for coming out tonight. Lions Only. We put on a show. I gave you a hard-fought 10 rounds. I gave it my all and that was my end result."
Charlo is the first undisputed junior middleweight champion in 18 years, since then-IBF titlist Winky Wright pulled the upset decision against WBC/WBA counterpart Shane Mosley to unify in the three-belt era in their first fight in 2004.
Charlo became the seventh male boxer of the four-belt era to be an undisputed world champion, joining super middleweight Canelo Alvarez (2021), junior welterweight Josh Taylor (2021), cruiserweight Oleksandr Usyk (2018), junior welterweight Terrence Crawford (2017) and middleweights Jermain Taylor (2005) and Bernard Hopkins (2004).
Charlo and Castano were supposed to meet in the rematch on March 19, but in mid-February Castano suffered a minor right biceps tear, leading to a postponement. It was worth the wait as the rematch delivered massive action just as the first fight had. It was highly competitive all the way, although Charlo seemed to separate himself from Castano in about the seventh round.
"This is legacy, man. This is something that is legendary," Charlo said of becoming the undisputed champion. "I'm a legend. This is a beautiful thing. They're going to keep putting them in there. When you're at the top like this, you get a bunch of mandatories. You get a bunch of No. 1 guys, so you just have to prepare for it and be ready at all times."
Charlo (35-1-1, 19 KOs), 31, of Houston, who was making his third overall defense, retained the WBC, IBF and WBA belts while taking the WBO title from Argentina's Castano (17-1-2, 12 KOs), 32, who was making his second defense.
"I could consider this fight being a little bit nerve-racking," Charlo said. "I felt like this was my first fight. You get nervous and you get the ants in your pants. I knew Castano was going to give it his all. I knew I had trained very, very hard but you all can see that I came in at 152 pounds because I was really in shape and I wanted to make sure that this was my fight. I'm just super excited."
Castano was late arriving to the arena, causing a delay in the start of the bout, but Charlo took in stride.
"I don't care about being late," Charlo said. "I don't care about who's early. I knew once I got to this arena, and I'm fighting outside in this beautiful place, I had to get it on."
Once the fight began they wasted no time going right at each other and setting a very fast pace.
Charlo landed plenty of left hooks to the body and head and also right uppercuts. Castano, who applied relentless pressure and unleashed numerous combinations, connected with several left hooks also, and they spent long stretches fighting toe to toe.
They closed the fourth round with an extended exchange and the fifth round was filled with wild back-and-forth action as they backed each other up before coming forward once again.
In the seventh round, Charlo seemed to gain control. He rocked Castano, whose right eye showed damage, with a left hook midway through the round and landed heavy counter shots.
In the 10th round, Charlo suddenly ended the fight. He caught Castano with a short left hook near the forehead/temple area and he went down to a knee on a delayed reaction. The punch did not look as heavy as many others Charlo landed, but Castano did not see the punch.
He made it to his feet, but Charlo again rocked him with a left to the head and a left to the body that knocked him down again. He got a knee but referee Jerry Cantu had seen enough and waved off the fight at 2 minutes, 33 seconds. Castano did not complain about the stoppage.
Charlo led on all three scorecards at the time of the knockout. Glenn Feldman had it 89-82, Zachary Young 88-83 and David Sutherland 87-84.
"We both were fighting back and forth," Castano said through an interpreter. "It was power back and forth. He's a champion. He hit me. He got me. But I'm OK."
Castano also said no hard feeling as it related to the trash talk leading up to the bout.
"Everything that was said outside was all bullsh-t," he said. "Everything that happened in the ring tonight, we showed that we are warriors. That's the main thing. We have to feed our families."
According to CompuBox statistics, Charlo landed 173 of 559 punches (31 percent) and Castano landed 194 of 610 (32 percent).
For Charlo, it was another successful rematch. After he lost the WBC belt by disputed decision to Tony Harrison in 2018, they met again in 2019 and Charlo knocked him out in the 11th round to regain the title. And on Saturday, he avenged the draw by stopping Castano.
"I listened to my corner this time," Charlo said of instructions from trainer Derrick James. "I got in my bag around the seventh round. I started sitting down a little bit more instead of boxing so much and moving around. I saw that he was wearing down a little bit and I was breaking him down. I just saw my punches being more effective. I get stronger in the later rounds if they didn't know.
"Once I seen him crumble right in front of me I was pretty sure he would get back up because that was the first knockdown, but I knew it was over."
Indeed it was moments later.
"Life is beautiful," Charlo said. "I worked really hard and I see the fruits of my labor I ain't done. I might move up to 160 and see if I can do it again."