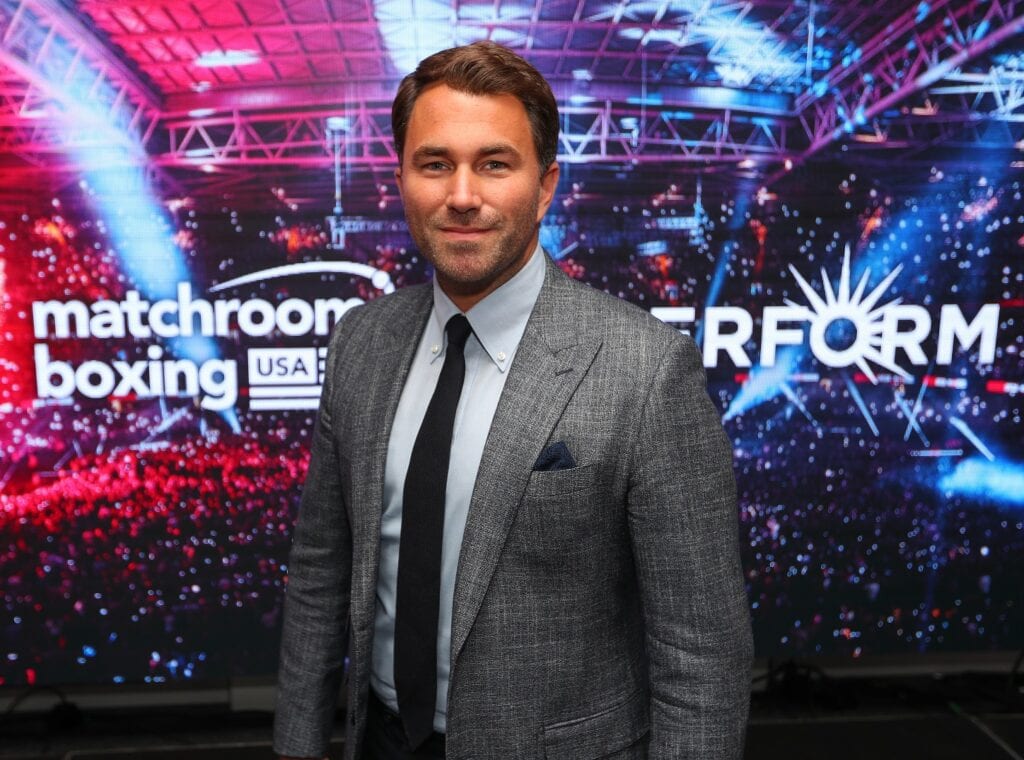 News
Hearn Maintains Joshua-Fury Still On- "I Will Get It Done"
Hearn Maintains Joshua-Fury Still On- "I Will Get It Done"
The saga of when and where the proposed Undisputed World Heavyweight Title fight between Unified Champ, Anthony Joshua and WBC titleholder, Tyson Fury continues. However, on Thursday afternoon in Manchester, England, Matchroom Boxing promoter Eddie Hearn again reiterated that the fight will happen later this year.
Hearn spoke after the Matchroom mid-day interviews for their Saturday night card that will feature second tier Heavyweights Dereck Chisora and Joseph Parker in the main event. And, he wanted to re-butt Fury's co-promoter, Bob Arum, basically sounding the final warning that the proposed fight is about to be dead with Fury likely moving on to another fight soon,
✅"THIS IS A DONE DEAL!"?‍♂️@EddieHearn says those doubting he will get AJ v Fury over the line need to be patient?

?Read more: https://t.co/czUKPk9SW2 ? pic.twitter.com/LssF8ge7Gs

— Sky Sports Boxing (@SkySportsBoxing) April 29, 2021
"The situation is still the same. We have an offer from a site (reportedly Saudi Arabia). The same site we dealt with before. The same people we've dealt with before….this is a done deal from that site…..You got lawyers in London. You got lawyers in Los Angeles.
I apologize for that delay for Bob (Arum) while you're not lifting a finger," Hearn continued. "And, when he says in his comments, 'Eddie is running out of time,' What? Is this all just on me? …so if I don't deliver, the fight's off? That's a great co promoter right there…. I know I'm under pressure. I'm doing my very best and I will get it done."
Hearn was specifically referring to Arum's repeated comments that Hearn had gone "radio silent" for he and Fury's British promoter Frank Warren and that as of earlier this week. Arum said to Boxingscene.com,
"Let me tell you – last time I talked to Eddie was early last week and he said he was going to have a signed agreement from the Saudis in 24 hours. Well, he's a little late. Wouldn't you be pessimistic if you haven't heard from him or anybody for a week? We're the promoter with Frank (Warren) of Fury and we haven't heard from Eddie in a week."
Arum further hinted that the ongoing arbitration with Fury and former WBC champ, Deontay Wilder, about a third fight for them could ramp back up and end with them agreeing/fighting in the U.S., too.
For his part, Warren sounded similar concerns to Britain's Talk Sport earlier this week,
"Look, every day I'm being told — it's like, 'It's in the post.' It's not arrived and that's where we are. I'll believe it when I see it. We're being told it'll be here. I know Tyson's had enough of hanging around. He wants to fight in June or July and that's what will happen if this thing doesn't get resolved very quickly."
The initial agreement signed by Joshua and Fury apparently had a deadline passed two weeks ago that either fighter could walk, if they site/date most importantly, cash, weren't presented.
For his part, Fury is currently in Las Vegas both training and waiting and as Warren eluded to, "The Gypsy King' will likely walk away from the proposed mega-fight with Joshua, at least for this Summer. That would be to fight someone else, as week after week tallies up past the deadline that Hearn/Matchroom had demonstrate the money to go with the when/where for a Joshua fight.
For now, it apparently is all on Hearn, and the talking, while delaying, won't suffice much longer.