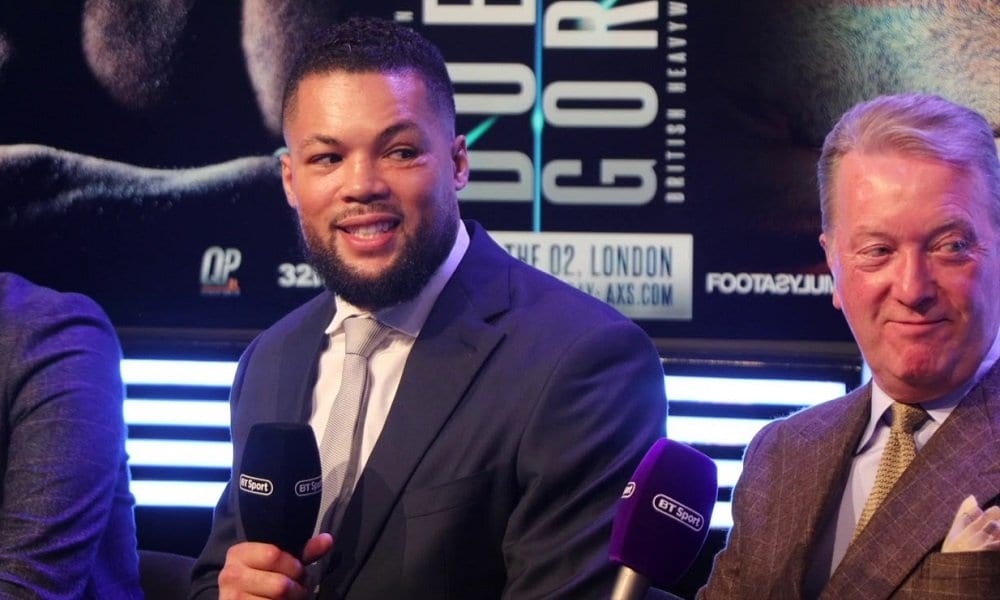 News
England's Payne- Intrigue Builds For Dubois-Joyce Heavyweight Clash
England's Payne- Intrigue Builds For Dubois-Joyce Heavyweight Clash
Again we check in with our colleague, David Payne (aka "The Boxing Writer") in England, as the buildup continues towards this weekend and the Saturday battle of unbeaten British Heavyweights Daniel "Dynamite" Dubois and Joe Joyce is set to take place there. Checkout the analysis from his own site www.boxingwriter.co.uk and Enjoy his work here!
It is all too rare for unbeaten prospects to fight while still in the foothill stages of their climb toward boxing's mountain top. So numerous and divergent are the paths to boxing's summit; and the world titles to be found there, a prize broader and less elusive than the zenith it once represented, that exciting contenders often progress in isolation of each other. The fear of falling back from the trail tends to prove more persuasive than the rewards found in victory or the lessons of defeat.
On Saturday night, British heavyweights Daniel Dubois and Joe Joyce will dispense with the unsatisfactory custom of cosmetic record padding and pitch their unresolved potential against one another. The fighters, the division, boxing fans and the sport itself will benefit from the nobility of trying to authenticate their standing as a potential world title challenger in the old fashioned way.
For the victor, there will be the classic British, Commonwealth and European titles to take home, a rare trinity in modern boxing. It isn't inconceivable that the winner could also contest a version of the world title in 2021. Or, to put names to the notion, tackle Fury and Joshua sooner rather than later. Alternatively, they could box Usyk, Povetkin, Whyte and their ilk for vacated belts should they become fragmented. Not that any fan would wish for the utopia of a unified title – if the tantalising prospect of Fury v Joshua becomes a reality – to be broken up.
Fights like Dubois versus Joyce do represent a real deviation from boxing's more commonly applied approach to matchmaking. They are considered too risky in an era in which the superficial perfection of an unbeaten record remains the aspiration and the currency with which reputations and title shots are bought.
Frank Warren is clearly excited to promote both fighters, holding two tickets for the heavyweight tombola, above and beyond his working relationship with Tyson Fury, is a position of strength for the veteran promoter. It is to his credit that he is willing to risk their unbeaten status by pitching them together. In the case of Dubois, the 23 year old, quiet of demeanour but destructive of fist, Warren guides one of the most potentially lucrative assets in the sport.
Heavyweights who can punch, on the cusp of world rankings and still in their early twenties, are a promoter's dream. Heavyweights sell tickets, knockout punchers sell tickets. And while there aren't tickets to sell, the following is growing and in victory on Saturday, the victor's profile will rise and opportunities will abound.
Stylistically, there are some similarities but notable differences between the pair too. Joyce is ponderous at times, though perpetually active. He works the body well and though the right hand can appear pushed opponents rarely buckle beneath a singular shot. However, to date, Joyce always gets them in the end. Joyce's right hand is heavy but not spiteful and foes are gradually discouraged by his suffocating relentlessness.
There are those who will be horrified by any comparison to George Foreman, young or old, and to those comrades I apologise, but it is impossible not to recognise some distant echoes when Joyce begins to unload his clubbing combinations. He just doesn't crumple fighters the way Big George did. But then who really does?
His young opponent hasn't faced the quality of opposition Joyce has already overcome. Bryant Jennings and the best of Bermaine Stiverne would probably beat everybody on Dubois' ledger and Joyce conquered both of them. What Dubois does have is the edge in speed and perhaps the edge in one-punch power too.
They are critical advantages that are hard to overlook, but it is true to say he has never tried to deploy them against a fighter as rugged, durable or determined as Joyce will be.
I like Dubois' jab, it could be the most potent punch in his arsenal and perhaps prove the defining factor. If he uses it frequently to keep Joyce at distance, where Joyce is also open to right hands at times, his guard is quite relaxed for a big man with modest mobility, then Dubois can preserve his energy to off-set Joyce renown 'engine' as the fight goes deep.
Joyce trusts his chin and against Jennings absorbed the faster punches before unloading his thudding hooks in response. At 35, he has never had the luxury of youth on his side as a professional. But his physique has improved from his heavier beginnings and his stamina and appetite for throwing punches is hard to match.
Many theories point to Dubois winning early but wandering in to trouble if the fight goes late where it is presumed Joyce's endurance, greater experience and relentlessness will tug on the thread of Dubois confidence and resistance. In short, they think Dubois may crumble late. Personally, if he can control his emotions, I've returned to the belief Dubois can win this fight from distance, over the distance having lurched toward Joyce late last week.
The jab is key, keeping Joyce at the range Dubois can unload from, using his advantage of speed, and then moving sufficiently to make Joyce reset before the slower, older man can retaliate.
It will require discipline from Dubois, for Joyce will not be discouraged nor deterred easily and the younger man is not naturally fleet of foot. But I'm tempted by a Dubois points win, despite the power both bring to the contest.
There are a host of other ways the fight could unfold. Which is exactly the sense of the unknown that boxing matches should be infused with more often.