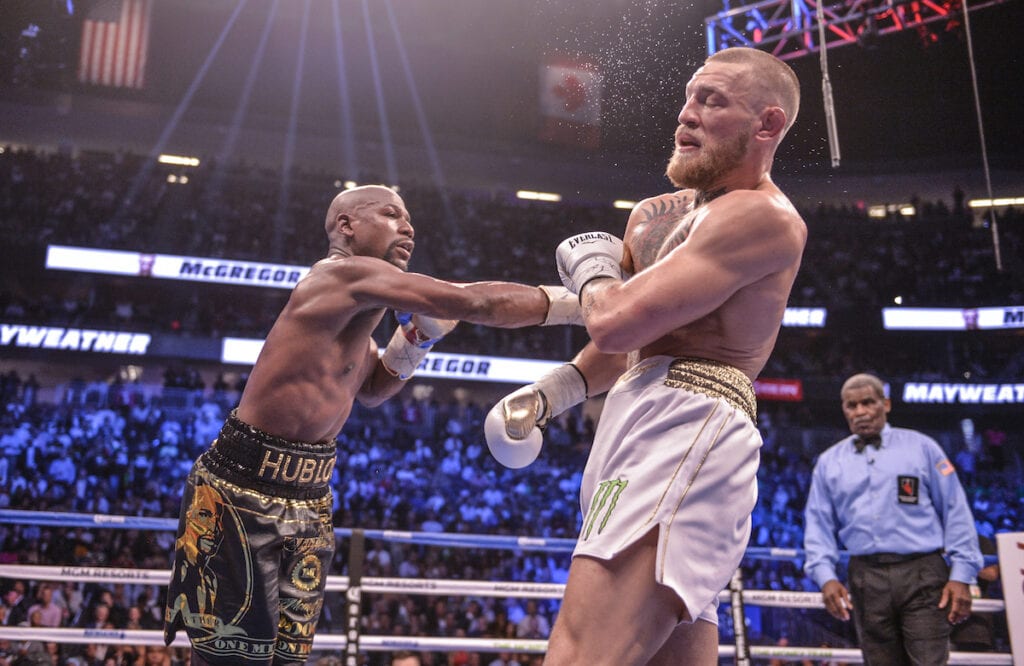 News
Conor McGregor On Pacquiao Fight- "It Should Happen 2021"
Conor McGregor On Pacquiao Fight- "It Should Happen 2021"
The biggest drawing card of Ultimate Fighting  will be back in their octagon this weekend for the first time in a year. However, it's Conor McGregor talking about his next potential fight, possibly in a boxing ring, that has perked up fight fans.
First, McGregor will be fighting Dustin Poirier at UFC 257 Saturday afternoon U.S. time at their "Fight Island" in Abu Dhabi.
The flamboyant Irishman, who is by far the highest paid fighter in Dana White's UFC, will return to headline the Pay-Per-View in his first action since last January. That's, when he defeated "Cowboy" Cerrone in just one round at UFC 246.
However, boxing fans, especially those of seven division world champion and future Hall-of-Famer, Manny Pacquiao, have been most curious to determine, if McGregor and Pacquiao might meet in a boxing match?
Well, McGregor made clear in a video interview that there is not only interest on his side, but he believes it will be happening later this year.
McGregor joined Canada's SportsNet in a video conversation promoting his upcoming UFC title fight Saturday, and he had this to say about potentially fighting the Filipino superstar,
"It's almost a certainty."

Connor McGregor talks about preparing for the possibility of a fight with Manny Pacquiao in the near future. 👀

Full Clip ➡️ https://t.co/YxF7JxSY11 pic.twitter.com/YdcBpnA4P9

— Sportsnet (@Sportsnet) January 18, 2021
"I'm hearing there's contracts and all coming. It's that close. So, I don't, I haven't spoke — it should happen 2021," McGregor said in the interview.
"Like I said I want to get my MMA game going a bit more as well. Look, I'm fighting Poirier who's a southpaw, Manny's a southpaw. I've been fighting professional boxers in the gym, sparring with southpaw boxers in the gym in preparation not just for Dustin but for Manny.
I've had shorter, 5'5 rockets coming at me, you know what I mean….So you just gotta be ready and stay prepared. And, I am." 
As we have written previously, Pacquiao and McGregor have been represented now for just under a year by Paradigm Sports in Los Angeles. That P.R. and marketing firm obviously has interest in those two guys eventually squaring off in a boxing match.
The 42 year old Pacquiao hasn't been in the ring since he defeated unbeaten Keith Thurman for the WBA Welterweight title in July of 2019. And, he has had to wait for an opponent through the Covid 19 pandemic shutting down the sport for 90 days last March and even now, through the rest of 2020. The wait has been in part to have at least some fans present at his next bout.
McGregor is 32 years old, the UFC's most marketable star, and, his flamboyant "Muhammad Ali-like" promotional personality would definitely sell hundreds of thousands of pay-per-views on that alone.
And, it's not that far fetched that he would get in a boxing ring, as McGregor fought Floyd Mayweather (photo at top) in August of 2017 in a boxing match but wore down and was stopped by Mayweather on a 10th round TKO.
For Pacquiao, 62-7-2, with 39 KOs, the clock is running out on how many more big event fights he can be involved in before he will have to "hang'em up." It has also been rumored that he might fight either Unified Welterweight Champion, Errol Spence or perhaps, rematch Thurman in a fight later this Spring.
Those fighters, as well as Pacquiao are under the Premier Boxing Champions promotional umbrella, which claims to still have one fight remaining on a deal they did with Pacquiao. That deal began with his PPV win over Adrien Broner in January 2019 and continued with the Thurman PPV that Summer.
Now, we wait to see what happens with McGregor in UFC action this weekend? And then, what he and Pacquiao will want to do next- with or without each other.