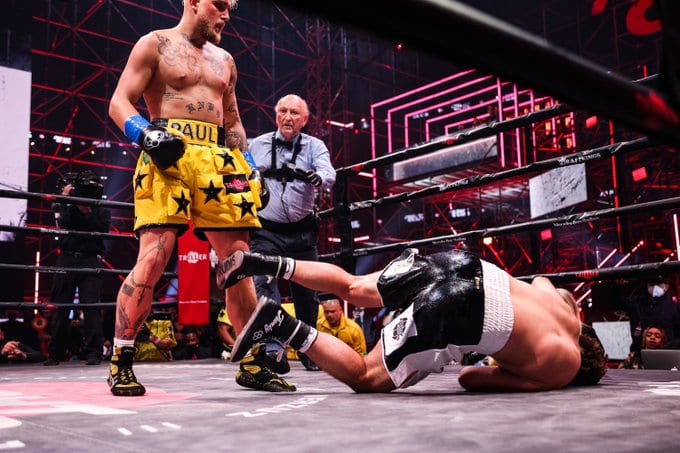 News
Buying Into Non-Traditional Fighter Hype Showtime Adds Jake Paul
Buying Into Non-Traditional Fighter Hype Showtime Adds Jake Paul
The landscape of boxing and especially PPV, in the U.S. is definitely in flux. However, it's apparent that non-traditional fighters with huge online and social media following are making an impact. And, Showtime Network is ready to embrace it further by signing Californian Jake Paul to a multi-fight deal with them.
The failed actor-Youtuber Paul does "fit the bill" in terms of creating massive interest from non-boxing fans to come find his fights. And, the premium outlet Showtime had already done a deal to be part of the exhibition card that Floyd Mayweather put together to fight his older brother, Logan in two weeks. So, it almost the natural next step to bring Jake Paul aboard.
ESPN combat sports reporter, Marc Raimondi, had more on Paul getting the offer from Showtime fresh off his first round KO of former amateur wresting star/MMA fighter Ben Askren in April,
Jake Paul has boxing deal in place with Showtime, adviser says https://t.co/4S7JaRu4BR

— Marc Raimondi (@marc_raimondi) May 20, 2021
Raimondi got confirmation from Paul's advisor/manager, Nakisa Bidarian who said,
"Jake is proud of the events he participated in with Triller and appreciates the opportunities they afforded him," Bidarian told ESPN. "Jake is excited to continue his boxing career with Showtime Boxing. Fight announcement coming soon." 
The 24 year old Paul also scored a KO of former NBA basketball player Nate Robinson on the undercard of the Mike Tyson-Roy Jones, Jr. exhibition through the Triller "Fight Club" last November.
There is still debate about how big of a PPV audience that the Paul-Askren main event card in Atlanta actually had, but there is no doubt that fight fans were buzzing about it the entire weekend.
Raimondi also got confirmation from a Showtime source about the deal with the younger Paul being done and that it's apparently for at least two fights or more.
Meanwhile, older brother Logan Paul will step into the ring at Hard Rock Stadium just north of Miami on June 6th fighting an eight round exhibition with one of the top fighters of the last 40 years in Mayweather. Logan Paul has only one professional fight which was decision loss to British fellow Youtube personality, KSI.
There was mayhem two weeks ago at the press announcement for the June 6th bout, when Jake Paul came over to Mayweather, who was being interviewed in a group setting, in one of the tunnels of the stadium. That's when, in perfect WWE wrestling form, he upstaged Mayweather, took his hat off his head and began to wrestle with security all over the tunnel area while Mayweather shouted threats and obscenities trying to get at him.
It should be noted that Showtime had multiple cameras rolling in the tunnel and has publicized the incident themselves, to go along with the millions and millions of views it got online and through social media for Paul, Mayweather, the reporters and their outlets, etc. Clearly, they want to capitalize on the notoriety and the potential to make much more money down the road on these type of "exhibition" fights.
It's believed that Paul will be pitted with an actual boxer for the first time coming up on Showtime later in the Summer.
And Paul, is all too willing to make as much as he can, while he can, for bouts in the ring.