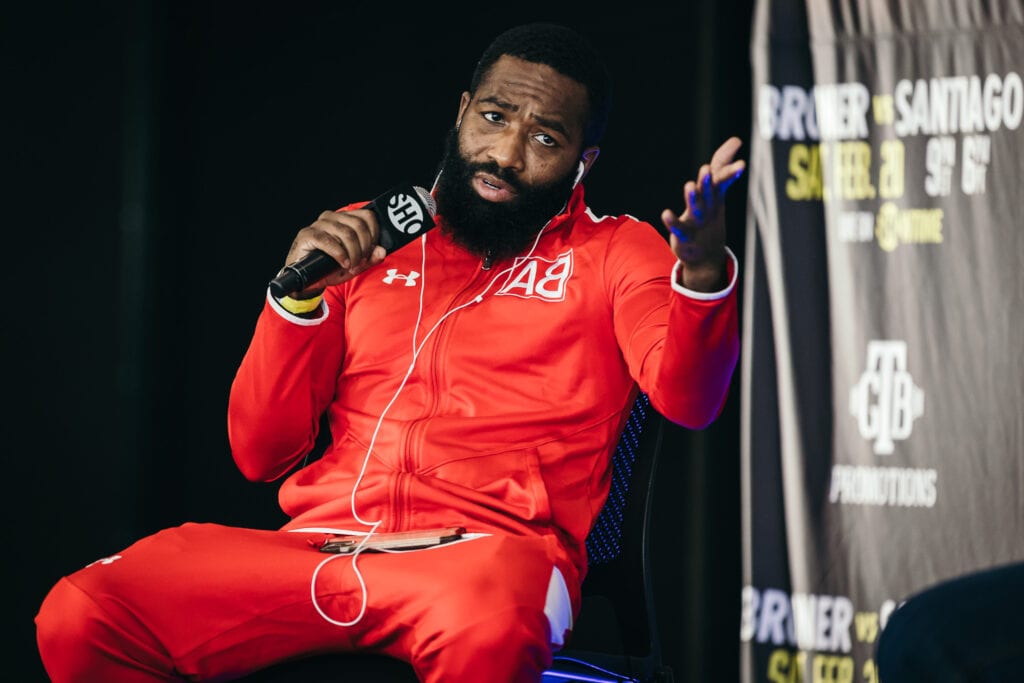 News
Broner Weight Controversy Builds Prior To Friday Weigh-In
Broner Weight Controversy Builds Prior To Friday Weigh-In
The "clown show" that Adrien Broner boxing career has become was already on partial display, again, during Thursday afternoon's press conference prior to his main event fight on Showtime Networks Saturday night in Connecticut. But, that may only be a preview of what could happen, if Broner steps on the scale Friday and is significantly overweight.
The former two-division world champion is headlining the "PBC on Showtime" fight card Saturday night from the Mohegan Sun Casino in Connecticut. He is scheduled to fight a 12-round bout with a little-known Puerto Rican opponent named Jovanie Santiago.
What's a bigger story emerging Thursday night is that the fight, which was originally supposed to be a Junior Welterweight 140 lb., is now being billed as a Welterweight showdown at 147 lb. And, as for Broner, he may weigh more significantly than even that going into Friday's weigh-in.
Boxingscene senior writer Keith Idec reported about the weight limit change on Thursday evening after speaking with Broner,
Broner-Santiago Contract Weight Changed To Welterweight Limit Of 147 Pounds https://t.co/cmSenVlpw9 pic.twitter.com/IL8eHREzmT

— BoxingScene.com (@boxingscene) February 18, 2021
There is rampant speculation that Broner, 33-4-1, may be as much as a 150 lb., when he steps on the scales Friday. This is due in part to Broner's own admission to Boxingscene that he was some 165 or more lb., while his 2020 troubles were on public display.
They included the Broner legal troubles that landed him behind bars, twice. As we wrote earlier in August, Broner has been in and out of a Cleveland jail due to missed court appearances surrounding a sexual assault allegation and an eventual civil judgement against him in the case.
Broner pled guilty in April 2019 to two misdemeanor charges in connection with a June 2018 assault of a woman in a Cleveland nightclub. As part of the plea agreement, Broner got a suspended six months jail sentence, was placed on probation for two years,  faced a fine from the court and had to reimburse the victim for over $4,000 in her medical bills.
The victim also sued Broner, who never retained counsel and never contested her civil charges, and a Cleveland Civil Judge, Margaret Russo, awarded her an $830,000 judgment last December. The woman's lawyers updated the judge in a motion in early August that Broner had not responded to document requests about his finances, failed to show up for scheduled depositions in that case and was avoiding paying the damages.
Broner told the judge in August that he is basically broke and does not have the money to pay the accuser in his case. This is especially with him not being able to fight to earn more money.
That brings us back to Saturday night and what shape Broner might or might not be in?
He said at the Thursday press conference,
"It's been a hell of a training camp. Maybe one of the toughest because I had to get back in rhythm, coming back and losing all that weight and working as hard as I do. I didn't want an easy fight so I picked a guy like Jovanie Santiago because I know he's going to push me and bring the best out of me." 
Broner was last in the ring 25 months ago in a 12-round loss to WBA welterweight World Champ, Manny Pacquiao. That was a fight where he did very little against the future Hall of Famer Pacquiao. And, over two years after, there was not much reason to think that you were going to see a very sharp fighter in this bout with Santiago, anyway.
Still, the larger question of fairness remains: should Santiago have to step in with a fighter that may be as much as six or seven pounds heavier than him and who has obviously disregarded the "catch weight" limit (143 lb.) or even be over the Welterweight limit for this fight?
Will Broner have to give up some of the coin he needs for the Ohio Civil Judgement because of the weight disparity?
That will be answered by what Broner does or doesn't weigh on the scale on Friday.