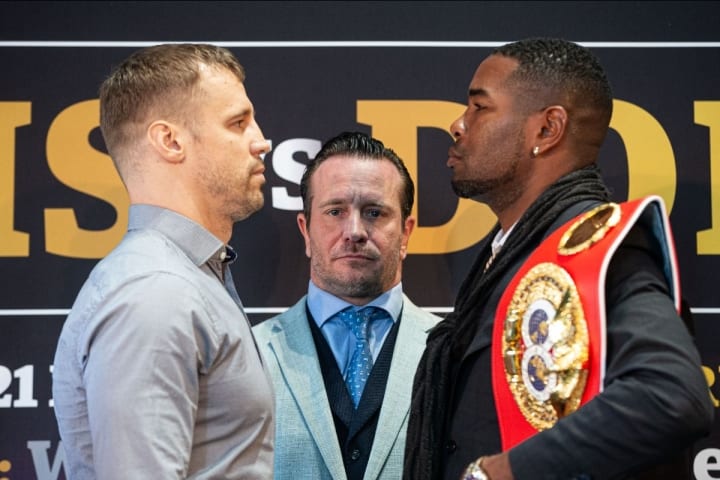 News
Briedis-Dorticos WBSS Crusierweight Final On For September
Briedis-Dorticos WBSS Crusierweight Final On For September
The World Boxing Super Series made a major announcement Tuesday afternoon that their Covid 19 delayed Crusierweight Final between Martin Briedis and Yuniel Dorticos originally scheduled for March is back for September.
The WBSS proudly tweeted about the title bout to be held without fans in Munich, Germany:
🚨 CONFIRMED: Briedis vs @DorticosKO – #WBSS Cruiserweight Final – set for 26 September! 🔥🔥

ℹ️ Full details: https://t.co/fcuhyKvdr3#BriedisDorticos 🏆 #AliTrophy pic.twitter.com/wBbCbhWtbP

— World Boxing Super Series (@WBSuperSeries) September 8, 2020
"We are thrilled to announce the date and place for the exciting finale of Season II of the WBSS," said Andreas Benz, CEO of Comosa AG, organizer of the World Boxing Super Series said in their release.
"Plazamedia is a phenomenal solution, the (German) studios are providing a controlled environment which is of huge benefit to us and the production team to keep everyone safe while also putting on a great show.
"At the same time, we have done everything to secure fair conditions for both teams, and to ensure they remain healthy and isolated until the action starts." 
Bredis (26-1, 19 KOs) was entering the final back in March under a cloud of controversy, as the former WBO champion was stripped of his title coming into the bout with Dorticos. This was because of not taking an immediate rematch against Krzysztof Głowacki for their controversial ending in the WBSS semi-final last June.
In that bout, referee Robert Byrd didn't hear the bell at the end of the second round when Briedis landed a huge punch, which led to another knockdown well, and I mean WELL after it was supposed to be over. He ruled a KO for Briedis, but the rematch was ordered.
Dorticos (24-1, 22 KOs) was coming into this Cruiserweight final for the second time after coming up short in the previous tournament in 2018, dramatically losing to Murat Gassiev back in 2018 in Russia. His fight with Gassiev at the time was a 50-50 fight and played out as such. The current IBF and Ring Magazine champ.
The fighters expressed their excitement in finally having a rescheduled date and site in the WBBS statement,
"We are very happy about the announcement of the final," said Latvia's Mairis Briedis. "I love the fact that it will be in Munich as it reminds me of every time I went to train with the Klitschko brothers in Germany and the flights were always via Munich. Those are some great memories of the time spent with them there!"
The Miami-based Cuban, Yuniel 'The KO Doctor' Dorticos, IBF World Cruiserweight Champion, added:
"To all my fans worldwide, in Europe and especially in Munich, Germany: I am super happy the World Boxing Super Series final will take place in Munich, Germany, and I will see you all on Saturday, September 26th. The KO Doctor is back and ready to prescribe another dose of pain and take the Muhammad Ali Trophy back to Miami!" 
Briedis and Dorticos are looking to become the top name in the Cruiserweight division, now that former Undisputed Champ, Oleksandr Usyk, vacated his titles and has moved up permanently to Heavyweight.