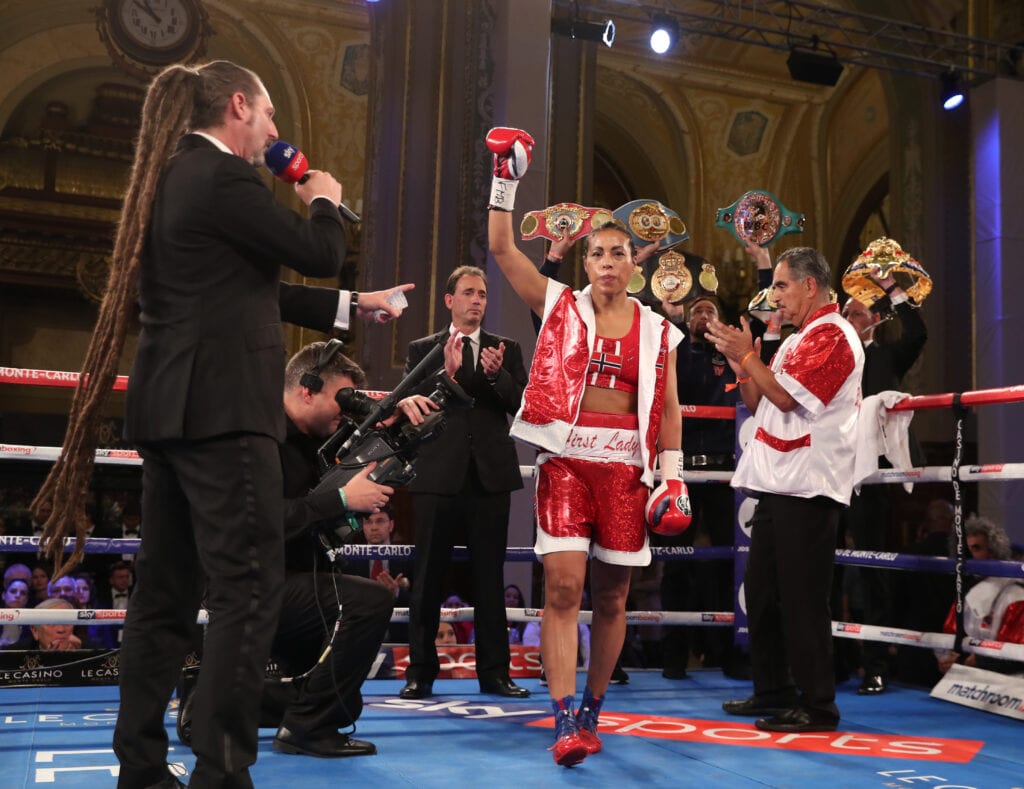 News
Brækhus arrives in Tulsa ahead of record bout
Brækhus arrives in Tulsa ahead of record bout
"The First Lady" Cecilia Brækhus arrived in Tulsa, Oklahoma, as she prepares to sit in quarantine before her title bout this Saturday, August 15th, as she defends her Undiputed 147 lb. titles against Jessica McCaskill.
Brækhus (36-0, 9 KOs), who has been in the United States training in Big Bear, California, meets McCaskill (8-2 3 KOs) with in mind that a successful defense will see her pass Joe Louis' 72 year record of 25 straight successful World championship defenses.
Touchdown, TULSA Oklahoma!!🛬@matchroomboxing @DAZN_USA pic.twitter.com/ihHoamMU0H

— Cecilia Brækhus (@1LadyCecilia) August 9, 2020
Check out our conversation about this fight, including if she's really breaking Louis' record or not, with Keith Idec, senior writer of Boxingscene.com, joining us on the latest edition of our podcast below.
All of the fighters, including Braekhus, entered "The Bubble" in Tulsa Sunday night as they prepare for isolation and testing for the card that will take place in the streets of downtown Tulsa.
McCaskill speaking on the bout is looking forward to it as it will be one for the history books.
"The ultimate opportunity and reward in the fight is beating Cecilia, getting the belts and being in the history books. Then we'll move on and things will be bigger and broader and we're just continuing to look for the levels and the steps in female boxing," McCaskill stated about the contest this weekend.
Also appearing on the card is Super-Welterweight Israil Madrimov (5-0 5 KOs) who challenges  Eric Walker (20-2 9 KOs) in a final eliminator for the WBA World title while Madrimov's fellow countryman Shakhram Giyasov (9-0 7 KOs) puts his WBA International Super-Lightweight title againstRey Perez (24-11 8 KOs),.Also appearing on the card are of young talents Nikita Ababiy (8-0 6 KOs), Raymond Ford (5-0 2 KOs) and the debut of amateur star Marc Castro.
The event is being shown on DAZN, and yours truly has a contest that is picking winners this upcoming Thursday for a chance to see this record-breaking fight with a month for FREE! No gimmicks, no clickbait, click here for details sponsored by Joe Louis Bourbon.