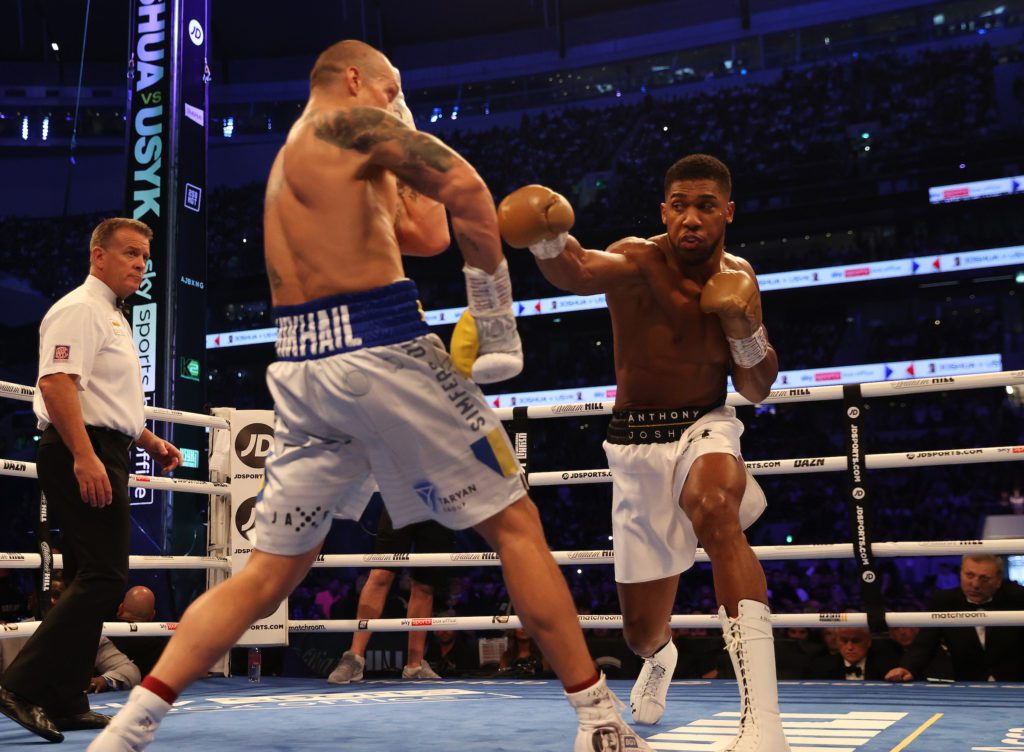 News
Anthony Joshua Responds- "Stop Listening To Bullsh#*t"
Anthony Joshua Responds- "Stop Listening To Bullsh#*t"
On Sunday, the British tabloid media was swirling with rumor that former Unified Heavyweight champ Anthony Joshua would be agreeing soon to "step aside" from his rematch with new champ Oleksandr Usyk. Now, the Englishman has made clear that the conjecture and rumor is just that.
Joshua took to social media and blast back at what he says are unfounded reports and make clear that unless he announces it, it's not true,
AJ responds to claims he's accepted 15M to step aside! pic.twitter.com/hMNjuktujn

— Undefeated Podcast (@undefeated_pod) January 24, 2022
"I see certain interviews that quote what I said. I think to myself, I 'aint done no interviews. Where did this person get that information from? I'm hearing people saying AJ accepts $15 mil (pounds) to step aside. I 'aint signed no contract. I 'aint seen no contract. 
So, as it stands, stop listening to the BullSh#*t. Until it comes from me. I'm the man in control of my destiny, my business. I'm the man that handles my business. I'm a smart individual. And, I make calculated decisions every step of the way. 
Don't listen to BullSh#*t from other sources. If I tell you something, then you'll no it's real."
First on Sunday, the London Telegraph (known often for exaggeration) reported Sunday night in Britain, that the 32 year old Joshua has agreed to accept 15 million English pounds ($20.4 mil U.S.) to let Usyk out of the rematch for his September decision win in their fight.
That report was backed up by a Sunday report in the competing paper, the London Sun, which quoted Tyson Fury's co-promoter Frank Warren of Queensberry Promotions as saying that he believes a deal will be struck early this coming week for Usyk-Fury to be able to happen.
"We are still working on things but I believe over the weekend we will make some progress and then have something to announce," Warren told the Sun.
"Everybody in boxing wants to see the undisputed fight between Tyson and Usyk, I want to see it just as a fan. So that is the fight we are trying to make." 
Fury was last seen knocking out Deontay Wilder in October for the second time in a year and a half in the latest defense of his WBC belt. And, the belief is that an Undisputed fight with Usyk is smarter to do first, because if Usyk beats Joshua, again, there would be no marketability for a potential "All-Britian Undisputed title fight" in the future.
The logic from Joshua's side would be to get paid significantly ($20 Million+ U.S.) to then face the winner of the proposed Fury-Usyk.
There's also the resolution of Fury having to fight, or not, WBC #1 contender Dillian Whyte and whether that bout will happen or not?
The purse bid split for the two is in dispute with Whyte suing the WBC. So, we'll wait for that to be resolved, as well.
Finally, as for Joshua saying essentially, "only believe it, if it comes from me," that's standard and it worth pointing out that he never denied that the step aside is being discussed. He only maintained that nothing is agreed to, as of now.
Yet.